Argentina can offer more than you could ever imagine, and you'd be hard pressed to see it at in one single visit. Buenos Aires is a whole other experience to itself, the pampas with its horseback gaucho culture brings you closer to nature than you might have imagined, and the wild Andes will put the fear of God into you, whether you cross them in the North or the South.
Patagonia, the Andes and the Pampas
Patagonia is a large but relatively low-populated region of southern Chile and Argentina. It is furcated by the Andes mountain range, leaving Chile on one side and Argentina on the other. Argentinian Patagonia is comprised of grasslands, steppes and deserts, as well as the impressive and looming mountains of the Andes. Patagonia is known for spectacular views, both on land and off. The coast offers possibilities of spotting impressive marine mammals such as the Magellanic penguin, the southern right whale, orcas and elephant seals. The region also encompasses the Valdés Peninsula, a UNESCO World Heritage Site devoted to marine mammal conservation.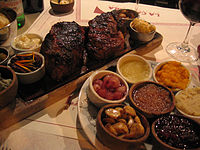 The Argentinian Pampas is a more than 750,000 km2 lowland that includes vast amounts of inland Argentina. The large plains have a mild climate and are covered in cultivatable soil, and agriculture is prevalent. The Pampas is home to a unique selection of wildlife because of its geography, climate and surrounding terrain. Among the more notable species are the pampas fox, several armadillo species and the pampas deer. In addition to this the Pampas is the home of the traditional Gaucho culture. A Gaucho is the Argentinian equivalent of the American cowboy, and the culture is generally built around cattle ranching and has a strong horse culture.
Buenos Aires
Buenos Aires is a bustling city home to around 3 million people. Here you'll be able to find all the pillars of the Argentinian culture – great steaks, seductive tango and football games that drive spectators into a frenzy. Whether you're a high society traveller or a budget backpacker, you'll find what you need in Buenos Aires. The city offers high-end shopping and the finest beef you could ever imagine, but you'll also be able to spend the day in a tranquil park with a nice bottle of red, and then head to an all-you can eat grill house for dinner. Whichever type of traveller you are, don't miss out on the vibrant live music and sensual tango shows!